I have to admit it- Me, I'm not such a great film enthusiast. I'm not in the know of too much films as my fellow contributors may be, and yet, I've been lucky enough to come across films that have just left me lost for words. For me, it takes a really magnificent film, something unique, something idiosyncratic and enjoyable to really get to me. Maybe that's why it was utterly challenging to come up with the following list of my favourite films. Nevertheless, it is my pleasure to introduce to you this list of films that have made an impact on me, and I hope you enjoy them if you ever so happen to come across any of the following:
1. Mulholland Dr. (2001)
W/D:
David Lynch
I guarantee you, this will not be a film you will watch only once. Lynch, the mastermind who's brought us
Twin Peaks
, and Lost Highway, does it yet again as he introduces us to Rita and Betty, two women who are pulled into psychotic illusion and deceiving lust later to discover that nothing is as it is in the city of dreams.
2. Amar Te Duele (2002)W:
Carolina Rivera
D:
Fernando Sariñana
This story remarks the difference between social classes in Mexico City, and their characters risk everything just to save their love. A modern-day
Romeo and Juliet
, Renata is a rich, upper class girl, who then falls in love with Ulises, a poor, lower class boy, who stays out of trouble, and has a passion for art.
3. Nueve Reinas [Nine Queens] (2002)w/D:
Fabian Bielinsky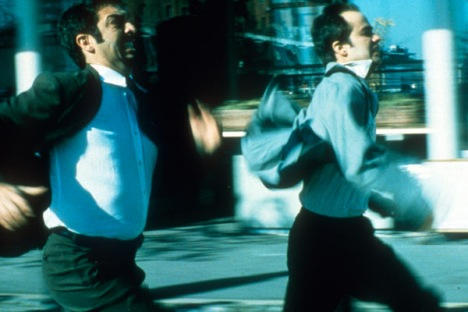 Two con-artists meet by chance, Marcos and Juan. Eventually, Marcos receives a call from an ill and aged ex-associate asking for help selling a forged set of rare stamps, the Nine Queens, to a business man who is about to be deported from Argentina. When the two men have to improvise, Marcos asks Juan to use his savings to set up the deal, leaving us to find out if he is about to be conned.
4. Happiness (1998)W/D:
Todd Solondz
The sexual foibles, perversities and hang-ups of a trio of sisters, their parents, neighbors and friends-told in a low key. It's a rich carousel of scared, scary lives with an inter-connecting pattern: the disillusionment of coupling-and how one keeps trying to succeed in this department despite the humiliations. Not for the faint of heart, but extremely clever concoction from talented writer-director Todd Solondz, making it one of the must strikingly surreal films I have ever seen.
5. Palabras Encadenadas [Killing Words] (2003)
D:
Laura Maña
W:
Laura Maña & Jordi Galceran
Dario Grandinetti's chilling portrayal of a seemingly psychotic serial killer is
engrossing, evocative, amusing at times and too surreal it becomes terrifying. Ramon, who has confessed as to being a serial killer, having killed nineteen people to date, kidnaps Laura, determined to torture her for whatever pain he feels she caused to him after they divorced. He proposes a game where he would say a word and she must answer him using the last syllable of the word in a new word. If she loses, she will suffer the consequences.
6. Hable Con Ella [Talk To Her] (2002)
W/D:
Pedro Almodovar
Both Marco and Begnino are blessed with an uncanny ability to empathize. Benigno is a lonely nurse and cares a beautiful comatose girl. Marco, is a strong but sensitive writer whose girlfriend, a female bullfighter, gets gored and also becomes comatose. The title refers to Benigno's advice to Marco, 'Talk to her'. Benigno's love for Alicia is full and real, and he treats her as if she is not in a coma, but Marco is a realist that can't seem to feel that Lydia is anything but dead.
7. Todo Sobre Mi Madre [All About My Mother] (1999)W/D:
Pedro Almodovar
Yet another Almodovar film,
All About My Mother
is a touching film, and I think it's because it's a film of dedication. As the credits begin, we read that the movie is dedicated to a long list of different sorts of actresses and women similar to the characters in the film, but personally, I think that at its core, it sympathizes with a handful of general people that go unrecognized a lot of the time. The main character of Manuela is a mother who revisits her life before the birth of her son, who has just died at age 17.
8. Brazil (1985)
D:
Terry Gilliam
W:
Terry Gilliam, Tom Stoppard, & Charles McKeown
Brazil
is dark, scary, funny and absurd. And most amazing of all- it's relatable. Maybe th
e concepts are carried to an extreme, but we can all relate to a bureaucracy collapsing from its own weight, vanity carried to the point of surgical suicide, and a fantasy life that's often richer than reality(that's why we watch movies isn't it?). The attention to detail and the blend of the absurd with a world as bland and unremarkable as it is far-fetched.
9. Saved! (2004)
D:
Brian Dannelly
W:
Brian Dannelly & Michael Urban
"Saved!" is my personal favourite film. It is a satire on religious hypocrisy and th
e irritating tendency of the conservative Right to want to shove their way of thinking down everyone's throats. Not only does it combine a hard hitting and funny script with amazing performances, it also deals with the important issues of homosexuality, teen pregnancy and intolerance. It was also nice to see Macaulay Culkin shaking off the Home Alone tarnish.

10. Kids (1995)
D:
Larry Clark
W:
Larry Clark & Harmony Korine
Kids is the first realistic tale of how teenagers act by writer and director Larry Clark. It tells the story of Telly and Casper, two friends growing up in a low-income, urban environment complete with drugs and sex. The entire films takes you through a 24-hour period of a group of just post-puberty teenagers as they test the notion that they are invincible.