September 15
— March in Washington, organized by the
ANSWER coalition
, will demand an end to the war and the impeachment of Bush.
September 29 — March on Washington, organzied by the Troops Out Now Coalition, will include acts of protest and resistance, building for a massive March from the Capitol to the White House.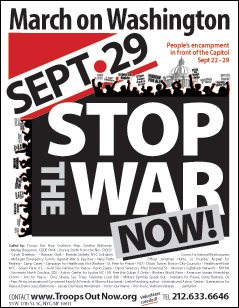 With "information" from the Petraeus Report, Congress is set to debate Bush's new funding request for the war. Join us in Washignton to send a message that that we're not going to let them betray us again.